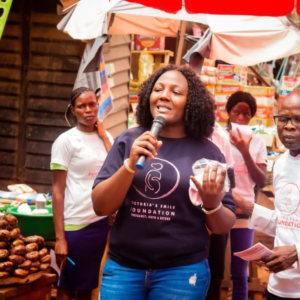 About Us
We are a non-governmental organization that supports rural pregnant women with histories of infertility, miscarriage and stillbirth through pregnancy, birth and beyond. This means we cover all pregnancy related care right from the time when we take on a woman (usually at 4 months of pregnancy) till six weeks after delivery.
Recap
Our Campaigns
We had a sensitization programme at the General Hospital Idanre, Ondo State. Our aim was to educate pregnant women about malaria prevention, diagnosis and treatment and how our foundation is helping women through it. Our team did an excellent job engaging them to spread the word. It was indeed a successful event
Our Babies
Our first baby, Ayodele Michael is doing well as the foundation constantly follows up on his well being. Check our social media for more pictures
Our Partnerships
We held our first official meeting with officials from the ministry of health including Chief Medical Directors and Heads of Nursing services of General Hospitals across Ondo State. This is an important step in our beneficiaries' selection process.
What's New?
Our Campaigns
This month, there would be another sensitization programme in collaboration with Pangel Development Foundation (PDF) supported by the ministry of health, Akure on malaria prevention, diagnosis and treatment at the State Specialist Hospital.
Our Babies
This month, we are working towards taking on 5 pregnant women. With our new partnership with HMB, we are certain this is achievable.
Our Partnerships
Our focus this month is to create an unforgettable sensitization programme in partnership with Pangel Development Foundation (PDF). VSF will continue to strive for collaborations that empower rural pregnant women.
Thank you! We love you! We would be in touch.