About Us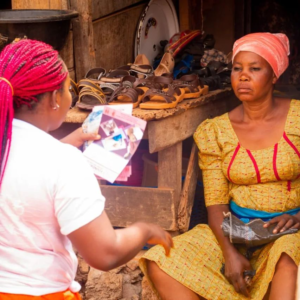 We are a non-governmental organization that supports rural pregnant women with histories of infertility, miscarriage and stillbirth through pregnancy birth and beyond. This means we cover all pregnancy related care right from the time when we take on a woman(usually at 4 months of pregnancy) till six weeks after delivery.
Recap
Our Campaigns
We had a sensitization programme at the General Hospital Idanre, Ondo State. Our aim was to educate pregnant women about malaria prevention, diagnosis and treatment and how our foundation is helping women through it. Our team did an excellent job engaging them to spread the word. It was indeed a successful event
Our Babies
Our first baby Ayodele Michael is doing well. He was born quite small and came a little early, but he continues to thrive. We are excited to see our little boy happy and safe.
Our Partnerships
We are also excited to now be a partner of the Hospital Management Board (HMB) at Department of health of Ondo State. This partnership means we have access to medical records of registered pregnant women with histories of infertility, miscarriages, and stillbirth. We are now able to speedily find beneficiaries and confirm if they qualify for the support.
What's New
Our Campaigns
This month, we would be hosting campaigns in collaboration with one of our partners, Pangel Development Foundation, a non-profit organization, a non-profit organization that creates an environment where people can make informed choices about their reproductive health. This is to further strengthen our resolve to put pregnant women first. Information is indeed power.
Our Babies
This month, we are working towards taking on 5 pregant women. With our new partnership with HMB, we are certain this is achievable.
Our Partnerships
Our focus this month is to create an unforgettable sensitation programme in partnership with Pangel Development Foundation (PDF). VSF will continue to strive for collaborations that empower rural pregnant women.
Thank you! We love you! We would be in touch.