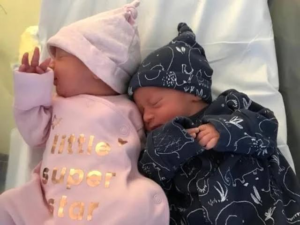 About Us
We are a non-governmental organization that supports rural pregnant women with histories of infertility, miscarriage and stillbirth through pregnancy, birth and beyond. This means we cover all pregnancy related care right from the time when we take on a woman (usually at 4 months of pregnancy) till six weeks after delivery.
Recap
Our Campaigns
We had two sensitization programmes. In collaboration with one of the partners, Pangels Development Foundation(PDF), at Idanre General Hospital, Alade, Ondo State and Mother and Child Hospital, Akure, Ondo State respectively. We educated pregnant women on malaria cases, prevention and treatment. The women were as excited as we were and we had two phenomenally successful events.
Our Babies
Our first baby Ayodele is doing well, he is steadily and effortlessly hitting great milestones.
Our Patnerships
Our collaborative efforts with the Hospital Management Board (HMB) at Department of Health, Ondo State has opened us up to privileges such as provision of 100 mosquito nets by Ondo State Government at our two sensitizations
What's  New
Our Campaigns
We would be holding sensitization programme at various locations across Ondo State, and we will be sure to keep you posted.
Our Babies
This month, we are working towards taking on 5 pregnant women. With our new partnership with HMB, we are certain this is achievable.
Our Partnerships
This month, we would be signing an MOU with the ministry of Rural and Community Development. This will enable the foundation to be actively involved in the day-to-day activities and events at the rural level.
Thank you! We love you! We would be in touch.