Fostering Support and Connection: VSF's Plans and Goals
Hello, and welcome to May. We want to thank you again for your support and encouragement as we continue to render financial aid and emotional support to pregnant women with histories of infertility, recurrent miscarriages, and stillbirths.
 OUR INITIATIVES
We have several projects and initiatives planned for this year and will reveal them to you soon. Currently, we are assessing new eligible beneficiaries and carrying out statutory background checks, including reviewing their medical records and histories. We aim to support thirty women through pregnancy, childbirth, and beyond, and we are confident we are on course to achieve this goal.
OUR BABIES 
All our babies are thriving, and our program officers are in touch with the families to ensure they are well-fed and receiving all the nutrition they need. February 14-Valentine's Day has taken an extra layer of significance for us as one of our 2022 beneficiaries birthed her baby on that Day.
OUR PARTNERSHIPS
Our partnership with the Hospital Management Board, particularly with the Mother and Child Hospital in Akure, Ondo State, Nigeria, continues to be fruitful. The Foundation has financed medical treatment at the hospital for eight women who had previously struggled with infertility, recurrent miscarriages, and stillbirths, enabling them to give birth to healthy babies. The hospital's medical expertise and investigative support have been invaluable, and they have also been instrumental in providing high-quality healthcare to new mothers and infants. Additionally, the hospital has pledged to support our efforts to care for pregnant women joining our program this year.
WHAT'S NEW?
NEW CAMPAIGNS
One of our campaigns for the year is the 20SmilesFor20Years initiative. For this initiative, we will collaborate with donors to offset the growing cost of supporting our beneficiaries. To complement these efforts, we will organize walkathons, encourage individual campaigns, and unveil VSF merch (products) this year.
A sensitisation program will hold on 3rd May to educate pregnant women on high blood pressure in pregnancy, causes, effects, prevention, and treatment.
OUR PARTNERSHIPS
We are intensifying efforts to cultivate partnerships and collaborations that can assist us in advancing the Foundation's objectives. We will share news later this year, so please stay tuned.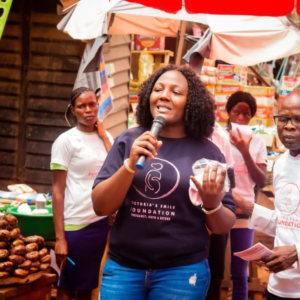 Once again, welcome to May.