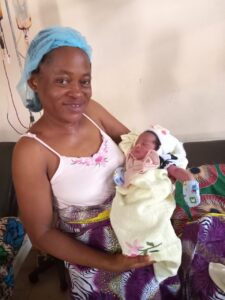 Our Campaign
The month of October was so overwhelming for us at VSF. We welcomed our second VSF baby, a baby girl on the the 27th of September 2022 and it went uphill from there. Our third baby, also a girl arrived on the 3rd of October, and we could not be more grateful. We also welcomed a baby boy on the 8th of October , but he suffered a fractured arm during the C-section. On a somber note, We lost a baby boy on the 12th of October due to an incompetent cervix and an infection. Our fifth baby, another girl arrived on the 13th of October and our hands have been full taking care of new-born babies and mothers.
Our Babies
All our babies are doing great, and we are in constant touch with their families to ensure that they are happy and healthy.
Our Partnership
Our collaboration with the Hospital Management Board specifically the Mother and Child Hospital, Akure, Ondo State, Nigeria has yielded positively and so far, we have helped a few women with histories of infertility, recurrent miscarriages and stillbirths have their healthy babies through the medical expertise of the hospital paid for by the foundation. The hospital has helped us immensely with investigations and assisted in providing quality healthcare to our new mothers, babies and the other pregnant women that are still in our programme.
What's New?
Our Campaign
We are focusing on our babies and beneficiaries' welfare and health as well as on getting more women to provide the needed help to, in the new year. We are also determined to raise money as our beneficiaries require special and oftentimes more expensive healthcare and diet compared with other pregnant women.
Our Babies
We are gearing up to welcoming two more babies before the end of the year. All hospital essentials have been given to the mothers to be and we are counting down to our babies being born.
Our Partnership
Our aim is for better collaboration with our health care providers and to partner with organization and individuals that can help us to further the goals of the foundation.