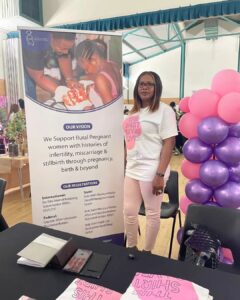 About Us
We are a non-governmental organization that supports rural pregnant women with histories of infertility, miscarriages and stillbirth through pregnancy, birth and beyond. This means we cover all pregnancy related care right from the time when we take on a woman (usually at 4 months of pregnancy) till six weeks after delivery.
Our Campaigns
We had another defining moment as an organization. We did our Uk launch at millsouk on 30th July and we were well received. It was such a blessing to be there creating awareness for the rural pregnant women in Nigeria with histories of infertility, miscarriages and stillbirths. One of the highlights of the event was meeting the Nigerian actress and celebrity; Kehinde Bankole who applauded our cause and wished us well.
We also had a walkathon in the Uk and in Nigeria to raise awareness and donations for our beneficiaries. We are grateful to all the participants for their show of love.
Our Babies
Baby Ayodele Michael is still waxing strong and hitting his milestones. Even though the foundation is no  longer supporting the family with financial aid as stated in our terms, we still keep in touch and are happy that he is doing well.
Our Partnerships
Our collaboration with Hospital Management Board, specifically the Mother and Child Hospital, Akure, Ondo State, Nigeria has yielded positively and so far, we have 5 pregnant women with histories of recurrent miscarriages and stillbirths as beneficiaries of the foundation. The Hospital has helped us immensely with investigations and also assisted greatly in providing quality healthcare that can be obtained for the beneficiaries.
What's New?
Our Campaigns
We are focusing on our beneficiaries welfare and health as well as getting more women to provide the needed help to. We are also determined to raise more money as our beneficiaries require special and oftentimes more expensive healthcare and diet compared with other pregnant women.
Our Babies
We are gearing to welcome our babies by buying delivery essentials and we are as expectant as the incoming parents
Our Partnerships
Our aim is for better collaboration with our healthcare providers and to partner with organizations that can help us to further the goals of the foundation.
Thank you! We love you! We will be in touch!